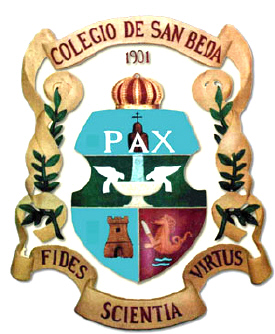 News & Events
What: San Beda (Grade School 65) High School 69 First International Reunion
When: June 10-12, 2005
Where: Long Beach and North Hills, north L.A., California, USA
Location: Marriott Courtyard, Long Beach and at the residence of Don Sevilla.
Hello Bedans,
Our first ever international reunion in Long Beach, California USA at the Marriott Hotel and at the residence of Don Sevilla in North Hills, L.A. finally took place. Bedans from across the U.S. and Canada and some from the Philippines were on hand to attend the occasion. The Long Beach gathering was held at the Gameworks. The area is similar to Eastwood or Greenbelt in Makati. The second day was held at Don Sevilla's beautiful house in North Hills, North L.A.. While the event in North Hills was taking place, our Philippine based classmates gathered at the Copacabana Hotel in Roxas Blvd. Manila to simultaneously participate in the event using video conferencing. At the same time, some other classmates from New Zealand, Australia, Las Vegas and Cebu joined in the con celebration via video and instant messaging. In total, there were 29 classmates in the U.S. that joined over 20 plus from the Philippines which was also participated in by 5 others via video conferencing. Below are the highlights of the event.
From: Jun Gacad
COPACABANA REUNION BULLETIN.

On June 12, 2005, we woke up to find that all roads lead to Copacabana. In the strictest sense of the word, it was truly an Independence Day for we were liberated--albeit momentarily, from our daily concerns in our homes and offices to renew the ties that bind us all as one Bedan family.

After all, it has been forty years since we ended our days of innocence in elementary to begin a raucous, unforgettable four years in high school. What made the Copacabana get-together truly special is that it was a counterpart event of the first international reunion of SBC Elem. `65 & HS '69 alumni in Long Beach, USA. The twin events were held simultaneously in different time zones separated by 12,000 kilometres expanse of the Pacific. Nonetheless, for the attendees, it was as if the Copacabana and Long Beach reunions were transpiring in adjoining rooms, thanks to the magic of internet video conferencing—despite initial difficulties in hooking up with Don Sevilla's PC in Long Beach.

At first, it was doubtful that the organizers of the Copacabana reunion would be able to muster the numbers needed to make the event a rousing success given the very limited time and flip-flopping on the final venue. The telephone, text and email blitz of Ed Aguila, Mon Yoingco, et al paid off when 29 classmates from Metro Manila and adjacent provinces showed up at Copacabana.

We also acknowledge the cyber presence of Ver Labos, Boyong Vergara and Dan Cortes, JB Banuelos and Art Clarito who have participated in the spirit of the Copacabana reunion via internet video conferencing from their respective locations in Cebu, Australia, New Zealand and Las Vegas.

It is interesting to note that the size of the Copacabana group would have qualified as a high school section had not the following classmates sent in their regrets due to previously arranged commitments that day: Tony Arnaldo, Wilson Aw, Philip Brodett, Vic Campa, Ricky Esguerra, Jun Tongco and Richard Yap. While the reunion organizers were compassionate enough to excuse them for their absence, they have nevertheless been fined two bottles of brandy each to be brought the next time around that we all get together as a group.

Surprise attendees were Lawrence Lee who came in at mid-afternoon and Ramesh Genomal who walked in at 6:00 PM. The event was a special one, indeed, and had brought out future opportunities for everyone to touch base once again with one another. For one, Rey Pineda reiterated his standing invitation to all at his resort in Angeles City, while Sonny Nicolas encouraged one and all to come to Merck's Bistro in Makati on June 30 where he and his band are regular performers.

Ed Aguila also took the opportunity to call on all classmates in the Philippines, US, Australia and other parts west to support in whatever way we can the "Trash Fun" of Fr. Columbano. He added that those who wish to get in touch with Fr. Columbano regarding this matter may call his mobile phone at +63916-454-5916. Since Ed Aguila and Jun Aristorenas are taking fresh initiatives in the Philippines to focus the efforts and energy of our batch towards helping Fr. Columbano's project in Malabalay, Bukidnon, it is suggested that the same initiative be undertaken by good-hearted and civic-spirited classmates in the North American continent, where almost half of our batch is now based.

The Copacabana Reunion is one of the most well attended get-togethers of SBC Class Elem. '65 and HS '69. Early bird was Mon Yoingco, who arrived at 8:30 AM, while Ramesh Genomal was the latecomer—walking in at 6:00 PM. In tandem with Noli Reyes, Mon deftly manned the PC keyboard while TeddyBer was the able webcam man. The food was excellent and booze overflowed—no wonder, most of us woke up the following day with a monster hangover.

We are deeply grateful to Danny Yu, who in his absence, graciously allowed us to use the Copacabana premises and equipment, and provided excellent staff support—especially that of his lovely assistant, RoseAnne, who made us all feel at home. We also acknowledge with thanks the efforts of the secretary of Gary Vazquez who had coordinated with the lovely "Office of Danny Yu" during the hectic days prior to the reunion. Lastly, we sincerely appreciate the cooperation and support of all our classmates whose presence made the event a resounding success.

May the spirit of camaraderie and kinship continue to reign in all of us as we look forward to many more great reunions ahead.
From: Carlo A.
Long Beach-North Hills, CA, USA Reunion Highlights.
My wife and I enplaned from Toronto after a brief stopover in Cincinnati. We touched down 2 p.m. Pacific Standard Time and we were fetch by Sonny F. From the airport, we drove directly to the Marriott Courtyard in Long Beach, site of the first day of the LA reunion. After a brief rest, we went down to the lobby and met Sonny F. and for the first time since High School, Jim dela Riva and Bong Castro with Gina. We walked a few blocks to the site of the evening, Gameworks (just like Eastwood or Greenbelt). That evening at Gameworks, one by one they came. Art Rosales, Caloy Saplala, Danny Salalac, Joe Manahan, Tonnette Santos, Rene Reynado w/ Teri, Fred Poblete w/ Annabelle, Richard Lee, Johnny See, Niven Valle, Tony B., Joy Hidalgo, Ady Legazpi, Lorenz Legazpi w/ wife, Rolly Gayon w/ wife, Rene Pagkalinawan, Jun Aris w/ wife, Guy Pablo, Manny Yoingco w/ wife, Nick Fletcher, Ed Nufable w/ Chit, Jun Razal w/ wife. That evening was full of fun, laughter, reminiscing stories of school days, and getting to know you once again. Drinks and food kept pouring in and lots of camera clicks. From as far as Chicago, Illinois to Toronto, from New Jersey to Houston, from Vancouver to Seatle and from Arizona to various parts of California we all gathered again. That evening ended late to a great number who decided to stick it out in the night and got drunk all the way.
The following morning was another day of fun and laughter as we head our way to the Dragon Restaurant for a buffet lunch. As we started to walk to the restaurant (which according to Art was only walking distance), we first made sure that it was not a mile long. At the restaurant, Richard Lee and Rene P. started their stories and their previous night's happening. As usual, too much laughter than eating. Thanks to Nick Fletcher for that buffet treat.
An hour later, we got ready to check out as we prepare to go to Don Sevilla's place. As we ride with Tony B., the fun and laughter continued from Richard Lee, Guy Pablo and Nick F.
Finally, we all met at Don Sevilla's home in North Hills (an hour drive from Long Beach). The beautiful house of Don was up and ready to party. Johnny See's DJ machine was all set, the tables were all dress up, the drinks were pouring, but the computer was nowhere to be found. Finally, Don handed me his laptop and was frantically setting it up for I can sense that the other parties were already live. We almost forgot that it was time to set up immediately. I had difficulty login in Don's Yahoo Messenger so I decided to use my own. One thing is missing…the web cam. I ask Don's son if we can borrow his web cam and gladly he did. So, I have to install the software to make the web cam work. Finally, we were live. J.B. was there, Art C. was also live, Copacabana was finally there too. Then came Tok Carter, Boyong Vergara and Ver Labos from Cebu. As we chat with our colleagues, somebody took charge rotating the web cam so that all will get a chance to be viewed from around the globe. As the night went on, drinking and eating went with dancing and karaoke singing to the tune of Don Sevilla, Carlo A., Fred P., Tonnette S., Rene R., Guy Pablo and Ed Nufable with wife Chit.
In addition to those present at the Gameworks (although Rolly G., Jun R. Ady Lepazpi, Jun Aris, Lorenz L. and Manny Y. cannot make it), Alex Tang came with wife Beth and Aurelio (Boyet) Reyes) whom I cannot recognized joined in. All in all, we were 29 with 10 bringing their spouses with them. (I hope I did not miss any).
With the loud music, dancing and karaoke singing, we thought we kept the whole neighbourhood awake. To our surprise, they enjoyed and even open up their windows just to hear us get wild and crazy.
It was a very enjoyable and unforgettable evening.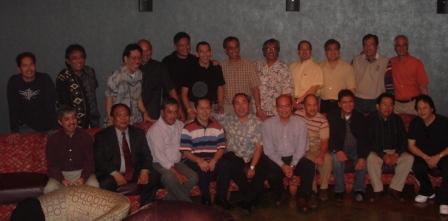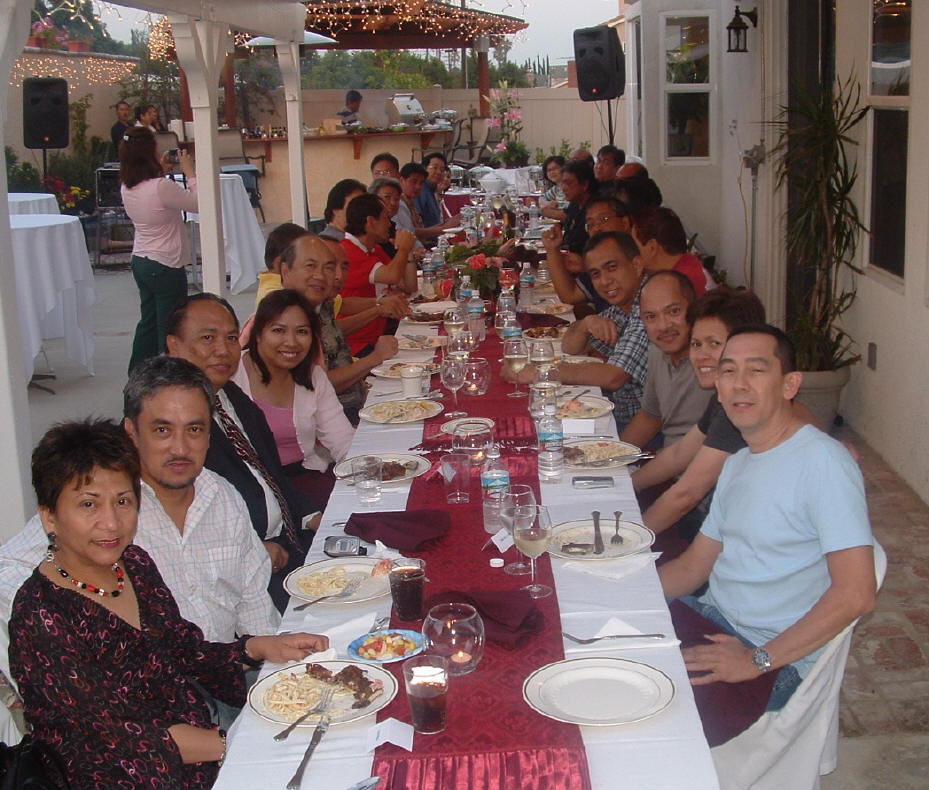 From: Jim dela Riva
To each and everyone, it will be an understatement to say that the reunion was a resounding success on all sides. This is an impetus to the group to put together another one in the East Coast next year and possibly Manila within 2 years. A resort setting where we can relax and party for a couple of days would be ideal. I dare to say such things, because we are definitely capable of pulling it off. Let's give everyone involved a pat in the back and encourage those that held back to jump right in.
I tell you this, I have been to many meaningful gatherings and this one is definitely one of the best. The venues where great and well executed but the people is what made it for me. Often I just sat, observed and listened and it was awesome. There must have been over a hundred photos, can't wait to see them all.
Many thanks to the people that made it happen, you know who you are. Carlo and his love wife Josie, your untiring work on the website, it refreshed the glue that holds us all together. The leaders in LA, great team work. To each and every attendee and their partners, it would not have been as great without you guys.
If I sound like I've gone over board on my accolades, you should have been there and I encourage you to make the next one happen. What ever it is that you went through or experienced in grade school and high school, you have to admit the fellowship can't be beat.
From: Ed Nufable
Chit and I are back in the East Coast. First, thanks for the great hospitality of all you guys,
Art, Don, Rey, Richard, Johnny, Sonny F., Tony B. Jimi and the rest of the West Coast group. We truly enjoyed the weekend and wished it was not going to end. I was just laughing at all the memories and laughters we had. I think the camaraderie and being together did do something to all of us. It was nice to see all my good friends especially Tony Bautista (I think the weekend was not enough for all our kwentos) and Rene Pagkalinawan, I was really glad to see him too. Anyway, it was truly memorable, it was nothing compared to my college reunions. Chit really enjoyed the parties and amazed at how close we all were. She enjoyed everybody's company. Thanks again, Nick, thanks for the T-shirt, Sonny for the CD, Don and daughters for your hospitality and the house and Art for spearheading the reunion. Till next year my friends and if ever you are in Washington and Virginia area do look me and Vic Leviste up. Again, thanks for the memories.
From: Tony B.
I'm still feeling the after effect of our 2 day reunion. It was non-stop fun from the time we all met at the Gameworks to the time we left Sunday morning. Again Richard Lee lived up to expectations, even during our night caps at the Marriott till the wee small hours of the morning. For the first time, I've seen Art R roll over the bed laughing so hard, and Rene P laughing like Pavarotti, because of Richard Lee's non-stop entertainment, and some intermittent jokes by Nick F, while Guy Pablo provided a baritone rendition of the song "Snoring" It was too much for me to let go, So I decided to have one more night of fun and joined them in Las Vegas, Sunday night. Guess who was there with them...REECHARD. Need I say more?
One last time Carlo, his wife Josie( who are flying back to Canada, Thursday) Joy H, Don S, Sonny F and myself will meet at TGIF's in Cerritos, CA. Johnny S will try to make it, a 7:00 PM Wednesday.
To all you guys, Thanks again for making our reunion a memorable one. Eddie N, it really was good seeing you. Special thanks to Art R, Sonny F, Carlo A Johnny S and Don S. Hey Jim. remember back in January when we said to each other "HOW ABOUT A REUNION" ...."WHY NOT"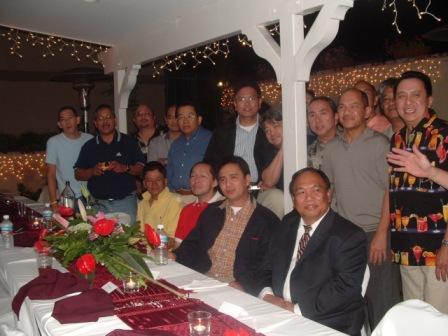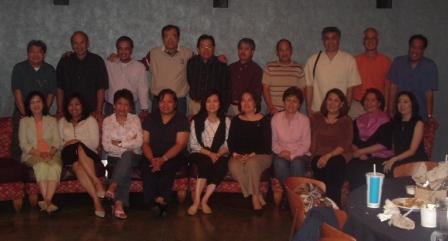 From: Johnny See
To all my classmates at the reunion, I never expected that it would turn out that way. I had a blast in seeing you again. This will be memorable for me. Remember when we had the meetings and we were planning the reunion, I was always excusing myself and was the first to leave. That last night I did not want it to end. Kayo ang nag end early, we were done by 1 a.m. parang kulang yung two days. Living here in the USA had changed me a lot. I became a person who only thinks about me, thinking each day where I could have fun and never caring about others. I felt the emotions within me at the reunion, I did not feel those emotions and did not cry when I learned about my mom and brothers passing. I became a person who would not give a f/%&? if somebody needs help, unless you're' from the opposite sex I have not stepped into a church in ten years. After the reunion, I guess it made me aware and reminded me of our younger days and people who have affected me one way or another. I think I'll call and talk to my sister today, we have not talked in 8 years. Maybe I'll go to church again. Maybe I'll be more responsible to my wife and children. Maybe I'm being dramatic but you know what-tuloy ang ligaya at good time. Hey Nick when you come back to L.A. in two weeks lalakad tayo. Mas konte na tayo. Carlo, what's our website address?
From: Art Rosales
Just wanted to add to Sonny's "Thank You".
Nick Fletcher, for providing us with souvenir reunion T-Shirt. Did you guys see it? Looks great.
Sonny Feliciano, for providing souvenir CD's. Since Sunday, I've been playing it in my car. I have a long commute each way to work so I totally enjoy it. You should ask Sonny F. to send you a copy. Brings you back to our 3rd & 4th years in High School. Reminds you when we were active in those "Soirees". Remember them? Ed Aguila mistakenly dancing with the "alalay" instead of the real one? Pareng Ed, it just cracks me up when I remember it.
Guys. We found a champion...Richard Lee. In our current age, he is in great condition to drink beer & hard drinks. I think he can finish any alcoholic beverage you can give to him. He is non stop in talking and giving advice. Even in his sleep, he still talks and also answers his questions. We were all cracking up when Rene Pagkalinawan told us this. He invited Richard to sleep in their room on Friday & Saturday nights.
Did you know that we have some great talents in our class? Yes, we have classmates that could sing the tunes. Fred Poblete, Carlo Angeles, Bakong, Tonette Santos, Rey Reynado, Johnny See and Richard Lee (if you could understand his words). They all stepped up to the plate and did their renditions.
Just a personal observation and feedback on the reunion. We all had a great time. We talked about the good old days. Nothing was serious. We were ribbing each other but you know that it was all for fun and you could feel the LOVE we have for each other. We were hugging each other for the greetings and most of all we were all glad to see each other.
This is an excellent start in getting to know each other again. I just hope that we can build on this friendship and mutual respect for each other. Let's stop the politics and the religious topics in our email group. Remember, we are 50 plus years old. We have our own political and religious beliefs. I tell you now, you won't be able to change our minds. Let's just have a light-hearted approach to our group. Groups get divided when topics of politics and religion come to mind and there won't be any winners at the end.
P.S.
Excuse my preaching on the last paragraph. I am on a business trip in San Jose today. However, my appointment got postponed for this evening so I had a chance to reflect on our group. Things have to be said for the good of the group.
Warm regards to all.
From: Nino Villaba
Hi Classmates,
I just want to congratulate everybody for a successful reunion. Art, you handled your end well. Saw all your pictures & I had a hard time figuring out who's who. Buti na
lang you listed the names of those who were in the pic.
Ponso, I could not recognize you anymore. Tumaba ka. Kamusta ka na?
Ninoy pareho ka pa rin since the last time I saw you.
Jimi, balita ko hiwalay na si Des.
Joy, di ka na puedeng bigyan ng "post" ni Ayson for long hair.
Rene R., kamusta? Di ka pa ba nagmamana dun sa matandang inaalagaan mo? How's your son doing?
Danny S., patuloy pa rin ba ang pagyaman mo? Ambunan mo naman kami!
Nick F., you gained weight pero bagay sa iyo.
Tonette S., you still look the same - mas pogi nga lang.
Rene P., I hope you found what you're looking for in Canada. Give my regards to Cynthia.
Bong C., you look so different from our school bus days in the elementary.
Bakong, balita dito na you have a nice house & pretty daughters.
To the rest of you guys, I hope maulit ang reunion.Best regards!
From: Carlo A.
Sayang Art. You should have made it. Napakasaya. But, it's O.K. for those who had more pressing concerns. Sa totoo lang Art, before the reunion, I was hoping to see my former barkadas like you and possibly Ruben but since you couldn't make it, O.K. lang. But when I got there, it was no longer your barkadas you were looking for. Suddenly everyone there was your barkadas. We were shaking hands like we didn't want to let go, we were reminiscing mostly the whole night, we were asking questions like, "Kumusta Ka Na, Saan ka nakatira, What do you do, How is the family" and lots of laughing, joking, remembering stories of school days. Sometimes, come to think of it, I never even had the chance to talk to some of them when we were in school and then, all of a sudden, they are all your newly found friends and barkadas, like the Band of Brothers. When we all parted, we were all hugging, hoping to see each other someday, and to visit when in town.
I just hope that those other classmates of ours will come on board soon.
From: Alex Tang
Hi guys, No matter how busy I am I thought I'd better write before you guys think I did not have a good time in our L.A. Reunion.

First of all, I think I was able to help Nick F. with his peculiar dental problem that is somehow connected to his reproductive system (LOL). Secondly, I have a good chat with Jimmy about his wonderful dental experience ($$$).

On a more serious note, I am so glad to have finally met Fred Poblete and his wonderful wife and Guy Pablo. I never met them before coz I'm not a GS 65er. My thanks to everyone who helped in one way or another to make this reunion a resounding success. Special mention to Sonny F. for the souvenir CD of some of our songs we listened to during our HS years. I've been playing it everyday in my office that even my Mexican assistant is starting to hum along. Thanks to Nick for the SBC 69 sweatshirt that he gave each of us. Thanks to Don and daughters for being such gracious hosts, to Johnny See for providing us with beautiful music for more than 8 hours-standing. Also thanks to Art for the Marriot connection and being one of the main guys in making this reunion happened. To the rests of you folks in the 3 continents this reunion would not be as successful as it was without the presence of each and every one of us. Let us hope that we will be able to have an even larger participation next time around.
From: Jun G.
If we stop and think about it, we also have had some really good times together in the past with friends, and yet the next day these friendships have never really gotten any deeper. Much less, motivate us to change the course of our lives! Now here we are, four days hence, and reunion attendees have still not gotten over the seemingly earth-shaking experience of sharing some good times with SBC classmates they have not seen for at least 25 years.

It boggles the mind to see that the impact of the reunion for the attendees is very profound and life-changing for some, even. Somewhere in this forum, somebody wrote that the Mendiola estero must have affected somewhat the air that we breath when we were kids, or perhaps there must be something strange in the food that we ate in the canteen during recess time, or maybe even in the cigarettes that we bought on credit from Aling Sally just outside the gates when we were teenagers.

Regardless…whatever it is that tugs at our hearts and minds because of rekindled friendships and rediscovered sense of camaraderie and kinship with classmates with whom we owe no particular closeness in the past is a good measure of how successful your recent get-together had been. Thus, we find the impetus for holding reunions regularly as we age because the feelings generated by these get-togethers must certainly be good for the soul and our general well-being.

From the Philippines, we send all of you our warmest greetings and congratulations for holding a very unforgettable reunion at Long Beach and North Hill.

Mabuhay kayong lahat!