Rodolfo B. Vergara Jr. a.k.a. Boyong.
Boyong's unique talent as shared in the Aussie movie industry. He is happily married to Suzy and they have one son, Vito (27) who is a Business Systems Analyst at the NRMA Insurance in Sydney. Boyong also shares what's life down under in Sydney, Australia.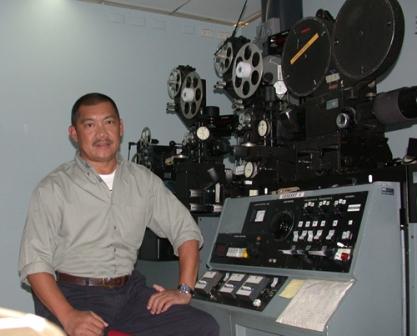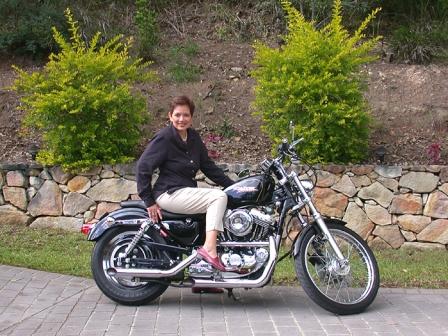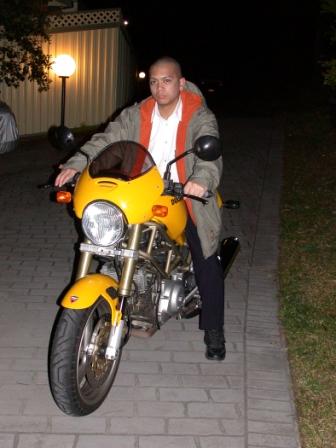 What a great honor to be the featured 65/69er for this Fall edition of our webbie. I guess you can now call me the Fall guy, Autumn in Ozspeak – even if it is Spring down here. Confusing, isn't it? But not as confused as my tertiary ed pursuits after the Summer of '69.
A year in La Salle, a year back in Mendiola, family relocated to Cebu for Dad's stint as Esso Southern Philippines Manager, (enrolled in Colegio San Jose Recoletos) back to Manila after a year and a bit. I then took a summer job at uncle Jim Vergara's commercial film production company. That's when the film bug bit me. I never left the industry.
While doing part time night school at u-belt, I mostly did pre-production and production management for TV/cinema commercials. This mainly involved satisfying fussy advertising types' requirements for the shoot. Everything was my job. Casting, locations, props, permits, camera equipment, crew, transport, accommodations for cast and crew, catering and the ever important ' public relations' with the local government while on location. Things got hard and hectic a lot of times but the work was so diverse and creative; the people quirky, eccentric, colorful and just plain whacky. It was the most fun anyone could have on a salary.
1976 presented an opportunity for collaboration with a Memphis, Tennessee film laboratory to set up an international motion picture laboratory in Manila. I went to live in Memphis for year learning all about the industry – that was my real education. While in Tennessee, my then girlfriend Suzy and I agreed for her to come over for a vacation – instead, we decided to get married there complete with Filipino guests supplied by the parish priest. Back to Manila, lab opened, all's well, then disaster strikes. Our American partner dies of a massive heart attack while waiting to speak to a big audience of motion picture types in the U.S. The Manila lab's future was in jeopardy. The 'international' lab idea was not feasible without the Memphis technology. The lab continued to service the cash-strapped local productions and that's when Boyong decides to start looking for more promising gigs elsewhere.
Enter Sydney, Australia. The Oz film industry was on a high and I was able to score a spot as a special effects optical camera operator for Colorfilm Pty. Ltd., a longtime supplier to our commercial production company. It was 1981 when Vito (then 3), Suzy and I left my ' true love' Pinas to live here down under. Times were good in the eighties. Our outfit was involved in the production of complex special effects for huge Aussie productions like the Mad Max and Crocodile Dundee series to name a couple. I took a short break from films to operate an Asian Grocery store but I soon realized that movies were still a bit more interesting than soy sauce and bagoong so back to the darkrooms it was for me.
Nowadays, I'm mostly involved in the bread and butter work of film labs – basic processing and printing of theatrical productions. Special effects is now done on computers, much easier, and mostly done by the younger members of the team. Home life for me is mostly Suzy, sharing motorcycles and cars with Vito, listening to music through my Pinoy made 'de tubo' analogue hifi amp, Sydney beaches with their usual cast of lovelies, Sydney food !!! We live in a bushland setting just north of Sydney and the intense noise of the birdlife can sometimes drive you mad if you don't love it like we do. I miss home sorely. I dream of retiring there one day. Maybe sometime soon I can be back there to share the common passion of the 69ers – Growing Old Disgracefully.
See y'all later!
What's life down under in Sydney, Australia as shared by Boyong and his family.
A typical summer Saturday morning is usually an early start for Suzy and myself. We might go for a quick drive to the fresh produce markets to stock up on a week's supply of the freshest greens, fruits, seafood etc. You all probably know that Aussie food products are a chef's dream. We often manage a Chinese or Vietnamese brunch near the markets. It's then a sprint up the freeway back to our home base up in the NSW Central Coast just north of Sydney. There are around a dozen or so beaches to choose from within 20 minutes from our home adjacent to bush land and we are usually settled down, zinc creamed, with mag or book in hand by around lunchtime. We've got a favorite beach for almost every mood we're in. Later in the afternoon is usually motorbike time. Because we live in a holiday area I don't have to go very far for a good ride. The roads here are better than Sydney City's. Very laid back describes our piece of turf. I still have to do "the big trip" one day. Oz is huge like the US and I don't think I'll ever see even a quarter of it. A main difference is that there are only 7 Aussie states so you can imagine the vast areas of beautiful nothingness between them. We are lucky to have a home here – highly recommended !
Sunday is a bit slower and just as relaxed. Early church (Suzy is active in our Parish church choir), catch up on the housework, maybe lunch outdoors, an afternoon movie perhaps (I can go to any cinema in Australia with a partner – no charge - for the rest of my life as an Australian Cinema Pioneer, not a bad perk for anyone with at least 20 yrs. Industry service). Weekend time is so limited but I try to sneak in some jazz and blues music appreciation through my very warm sounding little Pinoy "de tubo" amplifier. So soothing after being surrounded by digital noises from everywhere.
Occasionally, when I'm feeling like a patriotic Aussie, I'd fire up the ugly black disco/karaoke system for some very loud AC/DC or INXS. This annoys Suzy so much!
Weekdays are pretty much your usual boring slog to the city to earn a crust. Suzy works 9-to-5 in the general insurance industry …only for the last 21 years. I work an early 7-to-3 shift so I'm usually home in time for a quick cruise on the bike along the coast when the weather is fine. Ah… talk about the weather – Sydney's is fine most of the time – four seasons a year. Winters here are so mild that they are more a welcome break than anything.
The Aussies are quite a simple, fun-loving bunch of people. There seems to be less importance placed on superficial things like designer labels and luxuries. Just give them a dose of sport and the outdoors and everyone's happy as Larry. The women are stunningly beautiful ! I'm not just referring to the movie stars and model types but to your average girl next door, shopping housewife, shop assistant – the lot. It must be the fine weather, sport and the mixture of races here.
Sydney is magnificent. As a harbour city, it makes San Francisco look like a plain sister. A harbour lunch cruise is the best way to see the city. We'll be very proud to show you guys around should anyone come for a visit – just call, email or sms. It's a pity there's not more of us here – just Dan C. and myself. Jaybee is in neighbor NZ, very likely living a very similar lifestyle. Again, do come for a visit – we'll find the time for you.
I won't keep you longer, G'day from down under and thank you for this precious web space.
We miss you all and our beloved Pinas. Sydney Harbour – puede na ! Mendiola Estero – home sweet home !
Boyong's two-cents worth:
Having lived and worked overseas for over a quarter century now, Suzy and I have learned to live by this basic discipline...
There is never enough time, energy nor resources to realize all your dreams. There is, however, a very good compromise – to prioritize!.
By setting your priorities in life, things always seem to fall into place. Although we are by no means wealthy, we like to believe that our disciplined way of life will allow us to retire modestly but comfortably yet still manage to GROW OLD DISGRACEFULLY ! the '69er way